PCOS Hair Loss – Is It Reversible?
Polycystic Ovary Syndrome (PCOS) is related to the enlargement of the ovaries and the formation of cysts. If you are experiencing PCOS related hair loss, find out more about treatments that can help control this concern in this informative post.
Polycystic Ovary Syndrome(PCOS) & Hair Loss
Acute hair loss may be a significant side effect of PCOS. The insulin resistance due to PCOS may lead to an increased production of testosterone in your body that gets converted into dihydrotestosterone (DHT). Increased levels of DHT results in the thinning of hair follicles and the diminishing growth of new hair as well. This leads to the onset of patterned baldness in females due to PCOS.
Must Read: Hair Loss Treatment
Common Symptoms Of PCOS Hair Loss
Before we learn how to control PCOS related hair loss, let's have a quick look at some of its common symptoms –
Thinning Hair: This is the first symptom observed in PCOS hair loss. Your follicles would shrink and result in hair thinning.
Widening At Hair Partitions: Although we all lose almost 100-120 hair a day, PCOS can lead to excessive hair loss in less time. This causes the widening of hair partition, thus resulting in increased visibility of the scalp.
Patchy Hair Loss: Since PCOS occurs due to the excess of testosterone, it leads to the development of female pattern baldness.
Balding At The Crown: The crown region suffers from acute hair loss resulting in localised balding.
Partial Balding: Gradually, it leads to partial baldness, which becomes quite visible for others as well.
Is PCOS Hair Loss Reversible?
If you are suffering from PCOS, do not stress about balding and worsen your hair loss. Just like PCOS, the hair loss related to it is also reversible. Follow a strict diet, a regular exercise routine, and go for regular follow-ups with the doctor, to keep a check on your androgen levels. Early diagnosis and treatment of PCOS related hair loss can promote hair regrowth and prevent balding.
PCOS Hair Loss Treatment
Let's know more about the overall approach that experts follow to treat hair loss due to PCOS:
Diagnosis: Your dermatologist might recommend a few tests to check if you are suffering from PCOS related hair loss. To start with, he will check your BMI (Body Mass Index) and suggest blood tests, hormone tests and an ultrasound examination. Since thyroid deficiency and PCOS can sometimes have similar signs, your dermatologist may look for symptoms that are distinctively related to PCOS. This includes the formation of dry skin areas, morning headaches, depression, cold hands, and most importantly elevated testosterone levels.
Treatment: The overall treatment consists of two stages. Firstly, the doctor will try to restore your lost hairline with the PRP treatment. In addition to that, he may prescribe certain medications to regulate the androgen levels in the body.
PRP For Hair Regrowth: Dermatologists highly recommend the Platelet Rich Plasma treatment to stimulate the regrowth of hair successfully. For this procedure, doctors use an autologous blood sample drawn from the patient's arm and process it in the centrifuge machine to separate the plasma and boost its growth factors using the double spin method. Your trichologist will activate this platelet-rich plasma and then administer it into your scalp with the help of microneedles. This stimulates the dormant hair follicles and brings about hair regeneration with improved scalp coverage.
# Go ahead and check out the video below to know more about the various benefits that PRP treatment offers. #

Dermatologists consider PRP treatment as one of the best procedures for reversing PCOS-related hair loss due to the following reasons:
It is 100% safe and natural
It is a non-surgical procedure
It is a chemical-free treatment
It is super effective for reversing early stages of balding
It does not involve any downtime
It causes marginal discomfort
Medications: Doctors further prescribe some medicines for treating this condition:
Minoxidil: This antihypertensive medicine approved by USFDA, which can widen the blood vessels in our scalp by channelling an adequate amount of potassium. Since the supply of nutrients to hair follicles is improved, it results in healthier and thicker hair than before.
Metformin: Doctors often prescribe Metformin to treat PCOS hair loss caused by type-2 diabetes. As it helps regulate the level of insulin in the body, it also aids the overall PCOS hair loss treatment.
Oral Contraceptive Pills: Doctors recommend these hormonal medications to help regulate the androgen levels in women having PCOS. These drugs also help in controlling hair loss due to PCOS.
Before And After Results
Check out the before and after images of clients suffering from female pattern baldness to see the visible hair regrowth that they enjoyed after undergoing PRP treatment.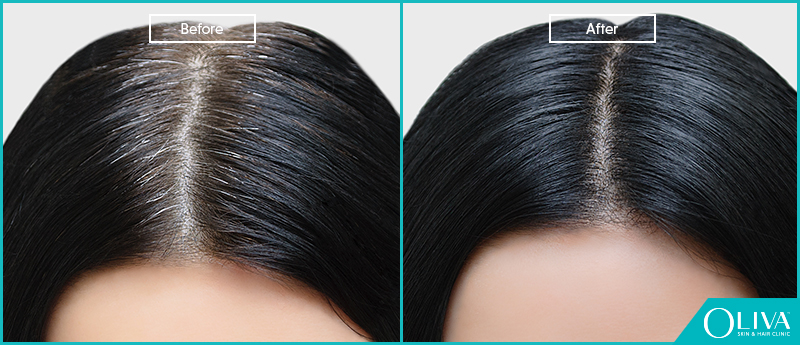 How To Stop Hair Fall Due To PCOS?
Besides the above-mentioned clinical approaches, here are the top 9 tips that you can follow to control PCOS hair loss by making healthy lifestyle choices.
Follow A Balanced Diet: Try to stay hydrated and consume more fruits and vegetables. Avoid the intake of preservatives and artificial sweetening agents to curb your hair loss due to PCOS.
Exercise Regularly: Being overweight can lead to PCOS at times. Therefore, you should try to exercise more often and make sure your BMI is healthy.
Meditate To Reduce Stress: Stress can be a direct cause of hair loss for both men and women. It is also associated with PCOS. Meditate more often and avoid over-thinking to reduce stress and control hair fall.
Get Sufficient Sleep: Insomnia and lack of sleep can cause hormonal imbalance in your body as well. Try to sleep at least 6-8 hours a day.
Follow A Haircare Routine: Make sure that you take proper care of your hair by using the right products. Minimise the use of heat styling tools including, a blow dryer, and use a soft comb
Quit Smoking: Excessive smoking can further elevate the level of androgen in your body. Besides aggravating your PCOS condition, smoking can lead to several other health complications as well. It is best to quit smoking to enjoy good health and a lustrous mane.
Opt For Comfortable Hairstyles: Avoid tight hairstyles as they can weaken your hair and might cause traction alopecia in the long run.
Choose The Right Shampoo: Ask your trichologist to recommend a shampoo and conditioner suitable for your hair and scalp type to minimise your hair fall.
Avoid Pulling Your Hair: Trichotillomania is a condition in which you feel the compulsion to touch or pull your hair, and that causes increased hair loss. Remember not to touch your hair too often and seek medical help if you suspect you may be suffering from the condition.