How To Remove Hair From The Bikini Area?
As one enters the stage of puberty, hair begins to grow on and around the private parts. Keeping one's private parts clean, well-groomed, or free of hair is an integral part of maintaining good hygiene. Bikini area hair removal is a process of getting rid of all the pubic hair.  Different methods such as waxing, laser, epilator, shaving, electrolysis, trimming, depilation creams, etc., available, it is now extremely easy to keep your bikini line hair free.
Though all these methods are popular, laser hair removal is considered to be the most effective solution as it results in permanent reduction of hair growth.
How To Remove Hair From Bikini Line?
Listed below are the 7 most popular methods to successfully remove hair from the private parts.
Laser Hair Removal
Electrolysis
Waxing
Hair Removal Creams
Trimming
Shaving
Epilator
Must Read: What Are The Best Hair Removal Methods For Women?
Bikini Laser Hair Removal 
A laser device which emits a beam of light, which is absorbed by the hair follicle is used to destroy the stem cells in the hair follicle below the skin's surface, resulting in a reduction in hair growth. Post which, the skin's pores close, leaving you with a soft, smooth, and hair-free area.
Must Watch:
There are different types of bikini hair removal such as bikini line, French, Brazilian, extended bikini, and Hollywood.

Pros
Permanent reduction of hair growth
Subsequent hair has a very fine texture and is light in colour
Time consumption is less
No ingrown hair problems
Cons
Minimal pain
Multiple sessions
Expensive
Cost
On average, it can cost between Rs 5000 to Rs 10,000 per session.
Before And After Results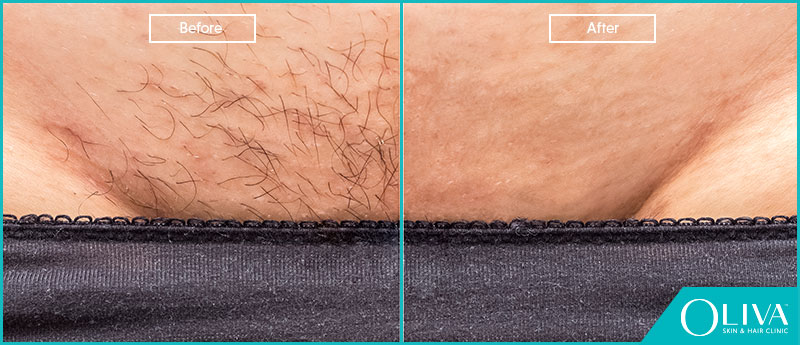 Must Read: Does Laser Body Hair Removal Last Forever?
Electrolysis For Pubic And Genital Hair
A micro needle-like electrode is inserted into each of hair follicle. An electric current passes through the electrode which helps in destroying the hair roots and damages the follicles. The electrode's intensity depends upon the treatment area and the type of hair.
Pros
Permanent hair reduction in bikini area
No risk of having any ingrown hair. Existing ingrown hair can also be removed
Suitable for people with all types of skin and hair.
Cons
A painful method
Outdated
Limited availability
Higher risk of infection
Expensive
High time investment as each strand of unwanted hair is treated individually
Cost
On average, you will spend between Rs 2,500 to Rs 3,500 per session
Must Read: Electrolysis Vs. Laser Hair Removal – Which Is Effective?
Bikini Line/ Brazilian Waxing
When it comes to waxing for bikini hair removal, the best course of action is to visit a salon. You can either opt for a hot wax or a cold wax; however, hot wax is preferred. Wax is applied on your bikini line and then wax strips are used to remove the wax along with the unwanted hair by pulling the strips in the opposite direction of hair growth.
Pros
Longer lasting results when compared to depilatories and shaving
Ideal for those who want to become completely hairless on their bikini line
Can be performed at home
Regular waxing over a period of time results in finer/lighter growth of hair
Cons
Increased risk of ingrown hair
Painful
Regrowth of hair should be at least 1/4″ long for waxing
Repetitive procedure which means expensive in the long run
Results may vary if done at home
Cost
On average, it will cost you Rs 300 to Rs 500 for a Brazilian wax.
Must Read: Waxing Vs. Laser Hair Removal – Which Is Better?
Hair Removal Creams For Private Parts
Hair removal creams for the bikini area are available over the counter without prescription, and contain chemicals like sodium or calcium hydroxide, titanium dioxide, barium sulfide and calcium thioglycolate which help in breaking down the protein structure present in hair. This helps in removing the unwanted hair from just below the skin's surface.
Pros
Painless
Can be done at home
Longer lasting results when compared to shaving
Risk of ingrown hairs is low
Cost effective
Cons
Has a strong odour
Contains harsh chemicals
Can cause allergic reactions in certain cases
Repetitive process leading to high costs long-term
Temporary results
Choosing the right product is challenging as several brands and products are available
Cost
On average, you can get a hair removal cream for as less as Rs 200 to Rs 1,000.
Must Read: Hair Removal Cream Vs. Laser Hair Removal – Which Is Better?
Trimmers For Bikini Hair
A trimmer is another home device for getting rid of unwanted bikini line hair. Use a body wash or soap to wash your pubic area before trimming.
Pros
Can be done at home
Painless
Cost effective
Quick procedure
Cons
Risks such as ingrown hair, razor cuts, burns, nicks, itchy red umps, etc. are high
Using old and worn trimmers can cause bacterial infections
Newly formed stubble can be irritating
Cost
On average, trimmer can cost between Rs 500 to Rs 3,000.
Shaving Bikini Line
Shaving is ideal for those who want to remove the excess hair growth on their own, in the privacy of their own homes. Apply a shaving cream and then use the razor to remove the unwanted hair. Ensure that you use the razor in the direction of the hair growth.
Pros
Painless
Can be done at home
Cost effective as you do not require any salon visits
Quick procedure
Cons
Higher risk of cuts and nicks from shaving which in turn can cause secondary infections leading to folliculitis.
Can be expensive due to the constant replenishing of razor blades and shaving cream
Subsequent stubble can cause irritation
Cost
On average, you might spend Rs 200 to Rs 500 for the razor blades and shaving cream.
Epilating Bikini Area Hair
An epilator is a home device containing a number of tweezers which help in pulling out the unwanted hair. These are ideal for removing excess hair from the bikini line. Ensure that your skin is held taut and the epilator is at a 90 degree angle.
Pros
Cost effective
Clean method
Regular use results in lighter/finer growth of hair
Can be done at home
Can be used on short hair growth as well
Longer lasting results compared to shaving and depilatories
Cons
Can be painful initially
Suits only for removing bikini line hair
Increased risk of ingrown hair
Cost
On average, it can cost between Rs 3,000 to Rs 10,000.
Which Is the Best Method To Get Rid Of Bikini Hair?
Laser hair removal is the best method as it results in a permanent reduction of the hair and is also cost-effective in the long run.
Must Watch: 
You can choose any method mentioned above, depending on your needs, available budget, and skin and hair type. Review the pros and cons carefully before deciding the right method to achieve a smooth and hair-free bikini area.